Meet the Geniuses: Inside the MacArthur Foundation's Creative Thinking Awards
Wed, Aug 10 2016 – 6:30pm
More information, and audio and video recordings of the event, can be found here.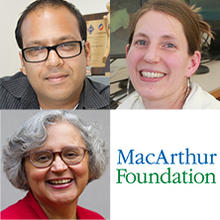 Maneesh Agrawala, Computer Vision Technologist; MacArthur Foundation "Genius" Grantee
Camille Utterback, Digital Artist; MacArthur Foundation "Genius" Grantee
Cecilia Conrad, Managing Director, John D. and Catherine T MacArthur Foundation; Former Vice President for Academic Affairs, Pomona College
It's the 35th anniversary of the John D. and Catherine T. MacArthur Foundation Fellows Program, the so-called "genius grants" that recognize exceptionally creative people who inspire us all. Past MacArthur Grantees include "Hamilton" creator Lin-Manuel Miranda, Harvard Professor Henry Louis Gates, choreographer Twyla Tharp and world wide web inventor Tim Berners-Lee. Join us for a fascinating conversation with MacArthur Fellows from the Bay Area about creative problem solving.
Cecilia Conrad, managing director of the MacArthur Foundation, will talk with computer vision technologist Maneesh Agrawala and digital artist Camille Utterback. Mr. Agrawala is a computer scientist designing visual interfaces that enhance our ability to understand large quantities of complex information. Ms.Utterback is an artist who uses digital technologies to create visually arresting works that redefine how viewers experience and interact with art. Ms. Conrad will also discuss 100&Change, MacArthur's new competition for a single $100 million grant to solve a critical problem of our time.
Location: 555 Post St., San Francisco
Time: 5:45 p.m. check-in, 6:30 p.m. program